This post may contain affiliate links for more info visit my disclosure page.
Really excited to bring you this Two Month Income Report!  Even though my blog is still small compared to lots out there, I have made great strides in my second month.  🙂
I'm really as interested as you are in compiling this data for you all to check out.  I hope you can learn from things I've done so you can also make money online!
Here's how I will break down my October analysis:
What's new?

Social Media
Second Niche Site
Email Marketing
More Training

Site Stats
Did I make money online?
WHAT'S NEW?
---
SOCIAL MEDIA:
This month I had added Twitter and a Facebook Page and what a difference it made, I still have to add Google Plus so I hope to do that in November.  My Twitter already has over 1,300 followers and my Facebook Page has 64 Likes.
What I like about Twitter is that people seem to like and retweet your posts better than on Facebook.  I've always found that the Facebook audience is hard to get them to engage so I will be finding other ways to get more page likes, the 64 I have was from boosting two posts using Facebook ads.
I've since have trouble getting more of my posts boosted because you're not allowed to promote making money online opportunities, apparently, just not sure how others are doing it though.  Will need to figure out another way.
As for Twitter, how I got 1,300 new followers in a month, you'll have to stay tune.  I have a lot of experience with social media especially Instagram, you can see some of the accounts I own: Jessica Dolls, Yummy Baby Gifts, My Mickey Life.  I just haven't started one for this site yet because I'm still thinking about the type of content I'll need for this niche for the Instagram audience.  It's very different from Twitter and Facebook, and it's very visually based.
If you're interested on how I grew all my social media accounts, check out these posts HERE. 🙂
SECOND NICHE SITE:
I was definitely not planning on creating a second niche site already in my second month of building my online business but I just never know when inspiration comes.
For this second site, I'm using the Amazon Associates program initially to earn passive income, not sure if I'll add other programs for it.  Why I started this second site, mymickeylife.com, is because of my very active My Mickey Life Instagram account and wanted to do some testing.  I've also started a Facebook Page for it just to give it more exposure.
What I was testing is if I can earn money passively from the audience I had built on Instagram.  First, I signed up with Amazon Associates with this Work Anywhere Now website, then I added an Amazon affiliate link directly on the Instagram account that relates to the post I was doing, and it got me traction!
So I thought, wow, I need to hurry up and build a website for this account and have my mymickeylife.com link in the Instagram account instead of going directly to Amazon so I can promote even more merchandise.  I've only done a few posts and have much to do on there still but it's a good start.  This second site will not be analyzed below under Site Stats but will talk about once in awhile in income reports like now or in a separate post as this is a side project for now.
EMAIL MARKETING:
I've finally added my newsletter signup box properly to this site!  The box was there in September but you weren't receiving anything if you did sign up then.  Though very minimal, at least now if someone signs up, they will get an instant welcome email from me and receive my blog posts on a weekly basis.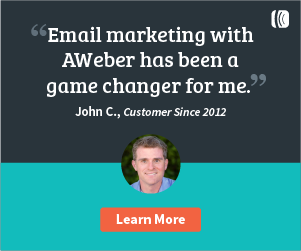 I use Aweber and I highly recommend it to others because they are the leading email auto-responder out there and you can try the first month for FREE.  Having a list is important as the subscribers are your "customers" and will be able to sell to them over and over again in the future.
For a free guide on how email marketing will help you grow your business, click HERE.
MORE TRAINING:
If you're following along with me on where I am in my training at Wealthy Affiliate, at the end of October, I was at Affiliate Bootcamp Course 2, Lesson 4.  You do need the Premium membership to get to this point but you will want to because great things have happened since learning in Course 2!  Starter memberships have access only to Course 1 on both of their online courses.  To see a comparison of both memberships, click HERE.
Another important aspect about Wealthy Affiliate, besides all their great training materials, is that you can learn from other members, especially ones who have more experience than you.  They are all at your fingertips to ask about how to do something.  One member I learned from definitely made me money in October!  🙂  It's an interesting concept and I will definitely blog about it in the near future so stay tune or subscribe to my email list HERE so you don't miss any of my posts!
SITE STATS
---
Let's start with my blog stats:
Posts – 9 (6 new)
Pages – 9 (2 new)
Comments – 205 (147 new)
Subscribers – 12 (7 new)
I think my progress is coming along nicely and adding a lot more content than last month!  I hope to continue this momentum as content is key to any site that wants ranking on search engines.
You may wonder how I received so many new comments?  Well, it's mostly thanks to Wealthy Affiliate, yet another great feature of the online training program!  When you have a community like they do, you have a lot people that have your back!
Next, let's look at my Google Analytics, the fun part:
My second month received 559 sessions according to Google Analytics.  Last month, I only had 246 sessions, which means I more than doubled my traffic.  What great news!
Why I think it increased?  It's because I added more pages and posts, got new social media accounts, and getting traffic from Google!  Now that's exciting, though minimal, it can only go up from here. 🙂
Here's a look at my two months cumulatively:
From the 2 month Google Analytics graph above, you can see a definite increase in October and it looks like I had zero days where I had no visitors in October compared to September which is pretty cool.
Some other stats worth noting is that my New Visitors have increased 53.3% in Sep to 67.3% in Oct (click on the image below to the left to enlarge).  This is good to have new eyes coming onto my site.  Now if you click on the below image on the right, you'll see that all my Channels have increased, especially Social and Organic Search.
Let's take a closer look at the different Channels:
Direct – People accessing your website from a link you posted somewhere or given out.  I also think when you access the site yourself to work on it, this is counted here as well.
Social – Traffic from social media platforms you're on like Twitter, Facebook, etc.  If I dig deeper, Twitter brings in 58% of the social media traffic compared to Facebook at 42%.
Referral – This is traffic coming from sites you have commented on –  which is very interesting.  I can tell that the sites that already have lots of traffic that I've commented on has brought me more traffic than sites that are newer with less traffic.  Gee, where will I do most of my commenting this current month?  Yes, the higher traffic sites!  How you can stand out of the crowd when you comment on other sites?  See my quick tip below:
QUICK TIP: You should have a long signature name which will all highlight when you link your website to it.  Every comment box allows you to link your website to it, do not forget to fill this out.  For step-by-step instructions on how your long name should look like, see this popular post I created at Wealthy Affiliate HERE.
Organic Search – This is traffic from search engines and for October, it's all Google.  Hopefully, I'll see an increase in November since this means I'm ranking on there now!
I love looking at all the stats in Google Analytics and this is why I said last month that it's important to add Google Analytics to your website as soon as possible so you can have stats like this to look at.  If you have not done so, check out my post on How To Add Google Analytics To A Website, it's an easy to follow guide to get Google Analytics installed quickly.
DID I MAKE MONEY ONLINE?
---
Oh my gosh, YES!  I made $72 in October and I couldn't be happier!  Remember I made zero last month, so this is a big jump.
Let's take a look at the breakdown of the $72:
Wealthy Affiliate – $8
Amazon – $14
Sponsored Post – $50
Not only did I make my first $8 at Wealthy Affiliate, I had three referrals in total and one of these upgraded to the Premium membership!  The other two referrals are free Starter memberships.  This just goes to show their teachings work and it's only the second month!  I have not even gone through half of the course that I'm studying yet, could you imagine the potential?  If you have not joined Wealthy Affiliate, join now HERE.
I made that Amazon commission mostly based on a teaching of a member at Wealthy Affiliate too which I've post about HERE.  $1 of it is due to my experiment of my Instagram account My Mickey Life that I spoke about up top when I posted an Amazon affiliate link on that account.
The sponsored post is also from the My Mickey Life Instagram account.  People pay me to post a Disney related image and caption on my account, pretty easy work on my part, but I need to tell more people about my service so I can get more sponsored posts!
How about my costs?
Well, in September, I didn't talk about my costs, because it was so little:  $0 for Aweber (first month free), $1.50 domain cost at GoDaddy, $2 of hosting at HostGator and my first month of Wealthy Affiliate $19 (first month is only $19) = Net Loss of $23.
For October, my costs are as follows:
Aweber – $19
GoDaddy – $2 (added mymickeylife.com domain with minimal add to cost because of the deal I got)
HostGator – $4 (2 of 4 sites on this plan)
Wealthy Affiliate – $47 (they've since increased their monthly cost to $49 for new members, still SO worth it!)
Facebook Ads – $32 – this was for my initial FB page likes for both sites.
Total cost for October is $102, giving me a Net Loss of $32.
Things to note:
1) Some costs are paid in full and amortized to get the monthly cost.
2) Going to try different methods of getting Facebook page likes instead of using ads.
3) If you join Wealthy Affiliate, you will not have the hosting cost as they host all the websites for you.  However, domain names still need to be bought even within Wealthy Affiliate if you want your own dot com name.  Otherwise, you can eliminate this cost with their FREE website option using a sub-domain (yourname.siterubix.com):
Summary:
I'm pretty happy with October even though my loss is more than last month.  I know if I keep going, the loss will turn into net income real soon.
One of the four things in my 4 Things to Consider Before You Start a Blog To Make Money post is that you should invest in your blog.  If you're serious about building a successful blog and online business, you need to have costs just like any other business you want to start.  The costs for a blog is next to nothing if you compare that to a real mortar and brick store or any offline venture.
All businesses start off with net losses and it's very common, especially for blogs as this is not a get rich quick thing.  There's actually no such thing as get rich quick, unless you win the lottery, even that's not quick because I've been waiting to win for years now!  LOL
My journey so far proves that Wealthy Affiliate works!  The benefits of joining goes way beyond the awesome training they provide.  The community is incredible and I can't thank them enough!
I will keep moving forward and see what November will bring!  I hope you've enjoyed this post, please leave your comments below if you have any questions or thoughts you'd like to share.
Let's make money online!